The Top Money meets Coffee –   Watch a few minutes of this conversation:
Profit with a Healthier Habit
The Morning Cup Of Coffee, could it be the answer for you and your family. The example of a top money source you have been looking for can be found behind the simple four step system Mr Holton Buggs has created.
Earn Money Quickly and the system will put you and your family in a better place now and in the future as your stable income grows.
Coffee drinkers don't like to run out,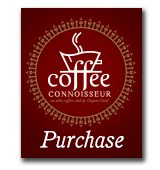 It's easy, It's simple, It's Coffee
and reorders month after month build solid income.
John@TheTopMoney.com
Organo Gold has added the BrewKup™ to it's product line.
Already established as the industry leader in single-cup coffee in Network Marketing, Organo Gold turned its attention to creating the perfect cup of coffee brewed with the simplicity and convenience that have made OG famous.
The Top Money meets
Greg Norman
Profit with a Healthier Habit
Home brewing machines currently account for over 25% of the ground coffee market. In the U.S. alone, over 16 million households are expected to have a single cup-brewing machine by the end of 2013, with that number projected to jump to over 35 million in the coming years!
It's safe to say that across the globe, the BrewKup™ is well on its way to becoming the most popular method to enjoy gourmet coffee.
The total number of single brewed cups is expected to surpass 20 billion by end of 2014 (since inception in 1998).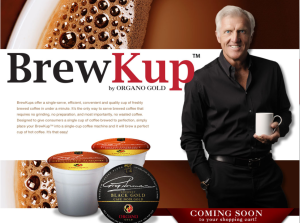 "I believe in the product and I believe in Organo Gold. As the Global Brand Ambassador I am very excited to partner with OG for the launch of the BrewKup™ and will give it my all to help make it a tremendous success."  … Greg Norman

Why Coffee Is Your Answer ..
VANCOUVER, British Columbia, July 30, 2014 /PRNewswire/ — Organo Gold, the gourmet coffee company that caters to consumers active lifestyles, today announced its entry into the brewed coffee category with the launch of its single serve BrewKupTM, the first OG product endorsed by Greg Norman, Former World #1 golfer and global entrepreneur. Norman and his company, Great White Shark Enterprises, entered into a global partnership with Organo Gold in October 2013.
"Entering into the brewed coffee category is a natural step in Organo Gold's evolution," stated Bernardo Chua, Chief Executive Officer and Founder of Organo Gold. "As we continue to expand our global footprint and extend our brand reach, it's critical that our Distributors and customers have product options that are in keeping with OG's lifestyle commitment."
"The BrewKupTM addition to the Organo Gold product line is a natural fit with OG's global culture — offering choice, convenience and simplicity and I am excited to be a part of this new energy within Organo Gold" added Greg Norman.
BrewKupTM is Organo Gold's single cup brewing system that is designed for use in most popular single-serve coffee makers. Organo Gold enters the market with two exclusive product collections infused with Ganoderma: Black Gold and Premium, which includes both Toasted Hazelnut and Chocolate Almond. The products are now available in the U.S. and Canada through the OG Independent Distributor network.
"The collaboration in developing BrewKups has been historic for Organo Gold – from Greg Norman through to the product development teams, our Distributors and customers, we have mastered the single-brew formula in a way that only Organo Gold can,"  stated Holton Buggs, Executive Vice President of Sales and Marketing.
Shane Morand, Co-Founder and Global Master Distributor added, "The product line is impressive and an important step forward in helping Organo Gold to capture one percent of the global coffee market."
Compatible with K-Cup® brewing system by keurig.
To learn more about Organo Gold or how to contact a Distributor in your area visit us at http://www.Top.OrganoGold.com
About Organo Gold
Founded in 2008 with headquarters in Vancouver, British Columbia, Organo Gold is a global gourmet coffee company that sells Certified Organic Ganoderma lucidum through a variety of coffees, teas, nutraceuticals and personal care products. Organo Gold offers its suite of products through its Independent Distributor network and to consumers through its Coffee Connoisseur Club in the United States and Canada. The company currently operates in over 38 countries and is privately held. For more information about Organo Gold, visit our website at www.Top.OrganoGold.com.
For Questions About Grant Access
John@TheTopMoney.com
John Myers 770-896-2300
Organo Gold Announces Partnership With "Fighter of the Decade," Manny Pacquiao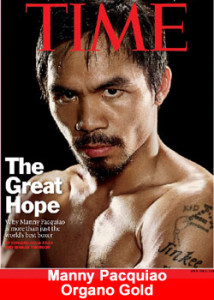 Organo Gold, the gourmet coffee company that caters to consumers' active lifestyles, proudly announced today it has entered into a partnership with professional boxer and popular cultural icon,Manny Pacquiao. Known globally as the "Fighter of the Decade," Pacquiao is also admired as an entrepreneurial leader, a successful Congressman currently serving in the Congress of the Philippines, and as a prominent humanitarian.
Pacquiao will showcase the OG partnership by bearing the Company logo on his attire during press and weigh-in activities for his bout with Timothy Bradley for the WBO welterweight title on April 12, 2014, at the MGM Grand in Las Vegas. The fight begins at 6pm PT. The event, "Pacquiao vs. Bradley II" is anticipated to be one of the most watched pay-per-view (PPV) events in recent HBO history.
"Organo Gold is the next generation of direct selling – a minority-owned and operated global company that leverages this new age of entrepreneurism," stated Bernardo Chua, Chief Executive Officer and Founder of Organo Gold. "Manny Pacquiao personifies the OG generation, mission and lifestyle."
"In the boxing, political and community arenas, Manny leads by example," stated Shane Morand, Co-Founder and Global Master Distributor at Organo Gold. "The fact that he chose Organo Gold is testament to the fact that we are a global company making a global impact."